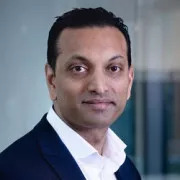 Founder & CEO, CGLytics,
Senior Advisor to Diligent Corporation
ESG Data Analytics, Corporate Governance
Aniel, is a seasoned entrepreneur, innovator and global business executive with extensive experience in building teams, products and sales strategies that transform businesses and accelerate growth.
Aniel was the Founder and CEO of CGLytics, a leading global ESG SaaS provider for Corporate Governance & Executive Compensation data analytics, which Diligent Corporation acquired in 2018. He served as the CEO of CGLytics and a member of Diligent's Executive Committee until Dec. 2020, where he built and lead a multi-million-dollar global business focused on data analytics and ESG.
He currently serves as a Senior Advisor to Diligent Corporation, sits on the advisory board of the Diligent Institute, and invests in early-stage tech companies.  
Aniel has worked closely with leading investors, corporate boards, and their advisors. Before CGLytics, he spent 20+ years in the financial services sector and worked with companies such as Barclays, BNP and Hermes Investment Management in the field of ESG, Human Resources, Business transformation and Corporate Development.
Aniel is a frequent speaker at industry events and has written and published various white papers, thought leadership content and articles.